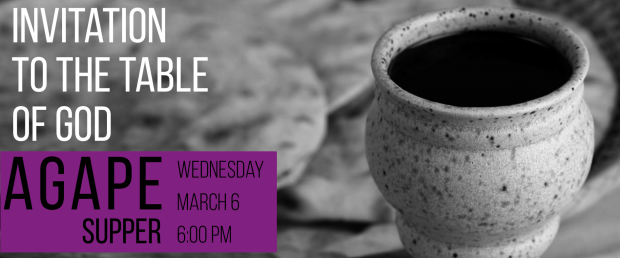 What is an Agape Supper?
The agape feast was a communal meal eaten by Christians in the early church, where they gathered not just for the sake of eating and socializing, but to focus on true Christian fellowship. A good description of this meal is found in Acts 2:46–47, where it says that day by day the disciples broke bread from house to house, taking their meals together with gladness and sincerity of heart, praising God.
Here at FPC:E, our tradition is to share a simple meal together on Ash Wednesday.* On that evening, all ages gather to eat together, to engage with one another and with God, and to celebrate Communion. Building on the success of our Sticky Faith Gatherings this past year, we are changing the way we do the meal to give an opportunity for all ages to participate. Responsibility for this simple meal will be shared: please see JoAnn Betka or use the PerfectPotluck site if you are able to contribute to the meal. Childcare will be provided for our youngest children after the meal.
* Ash Wednesday marks the first day of Lent, a special season that is set aside to prepare spiritually for Holy Week and Easter.