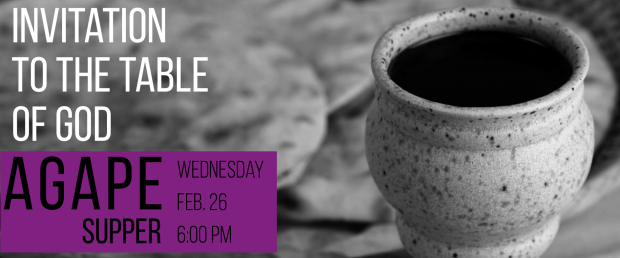 What is an Agape Supper?
The agape feast was a communal meal eaten by Christians in the early church, where they gathered not just for the sake of eating and socializing, but to focus on true Christian fellowship. A good description of this meal is found in Acts 2:46–47, where it says that day by day the disciples broke bread from house to house, taking their meals together with gladness and sincerity of heart, praising God.
Here at FPC:E, our tradition is to share a simple meal together on Ash Wednesday.* On that evening, all ages gather to eat together, to engage with one another and with God, and to celebrate Communion. This will be a Sticky Faith event, with an opportunity for all ages to participate. Responsibility for this simple meal will be shared: please see JoAnn Betka or use the PerfectPotluck site if you are able to contribute to the meal. We need soups/chili/mac and cheese, cheese and crackers, and fruit. Table settings will be provided by the church. Childcare will be provided for our youngest children after the meal.
* Ash Wednesday marks the first day of Lent, a special season that is set aside to prepare spiritually for Holy Week and Easter.