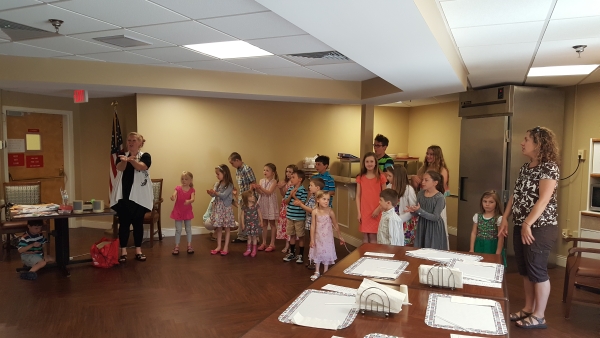 What happens when you take 18 FPC:E kids and a few Jumpstart3, Seeds Family Worship, and Go Fish songs to a nursing home?… something wonderful. On June 12, kids from FPC:E traveled to Hilltop Nursing Home to spread the Word of God through music and movement. The kids danced and sang to several of the songs that they learned in the Jungle Room over the past few months. Alisha led the kids and even got the residents to do motions. It is a great combination of learning Scripture, movement, and sharing God's Word with another generation that completely loves it! One Hilltop resident exuberantly exclaimed that it was better than physical therapy!
Jeff McCullough, Owner/Music Producer at JumpStart3, saw a video of the kids doing their thing and responded via social media:
"This is so cool I love the children are ministering to elderly people using gods word this is amazingly beautiful video …thank you for sharing God's love with several generations"
The kids love visiting Hilltop as much as the residents enjoy the visits. Weston Hunt especially enjoyed seeing Miss Doris- a hilltop resident who is 100 years (and 2 months) older than he is! Lucy Kamper got to meet a new friend, also named Lucy, who smiled and waved and said she loved the energy of the kids. Another familiar nursing home friend talked of his greenhouses and expertise in gardening and hoped to get outside to water some newly planted flowers. What a blessing it is to bring the Word of God and the faith of children to elderly members of our community!